NIKVision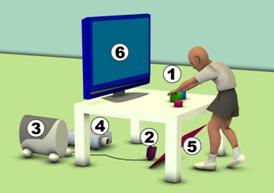 NIKVision is a tabletop device and a set of games and toys designed for being used in nurseries and schools with children of 3-6 years old. Children use NIKVision by manipulating conventional toys on the surface (fig.2.1). A USB video camera is placed inside the table, capturing the surface from below (fig.2.2). Visual recognition software runs in a computer station (fig.2.3) which also handles the game software and the tabletop active image provided by a video projector under the table (fig.2.4) through a mirror inside the table (fig.2.5). The image output is also shown on a conventional computer monitor (fig.2.6) adjacent to the table. Visual recognition and tracking of objects manipulated on the table is provided by Reactivision framework (http://reactivision.sourceforge.net/) and a printed marker attached to the base. The tangible interaction is achieved by manipulating the toys on the table surface. The physical affordances of a tabletop configuration and conventional toys enable groups up to 5 children to play together, reinforcing collaboration, sharing and social behaviors in young children.
For more information: http://webdiis.unizar.es/~jmarco/?page_id=10&lang=es
Instructions about the design and construction of a NiKVision tabletop can be found in this manual: ES version
TOYVision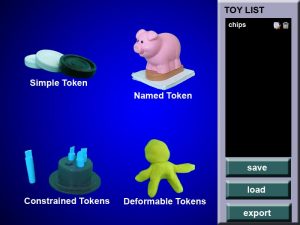 ToyVision is a set of software tools for the easy and rapid prototyping of tangible videogames for tabletop devices (computer augmented horizontal surfaces). Tabletop devices are becoming very popular for designing innovative computer games, but there is scarcity of proposals of tangible computer board-games, in which interaction is carried out by manipulating conventional playing pieces in the tabletop surface, the same way than in a conventional game. The reason relies in the intrinsic difficulty of implementing this kind of games, as developers have to code very complex algorithms to robustly track any playing piece manipulation on the table. ToyVision has been designed to support in the design and implementation of computer augmented board-games based in tangible interaction, by offering intuitive graphic tools to promote any conventional playing piece into a tangible token, and, during the game coding, to get access to high processed data straight related with each playing pieces placed and manipulated by the players on the tabletop.
For more information: http://www.toyvision.org/